Over the Summer, I had the opportunity to go metal detect on the farm that used to be owned by my grandparents.  Luckily the farm is still in the family, so I still have access to it.  The farm house was built in the late 1800's and my cousin now lives in it.  I was excited to get the opportunity to hunt on it, mainly for the chance to find some objects that may have been lost by my grandmother or grandfather.
The ground around the home was filled with trash targets.  I was using my Garrett AT Pro with the 8.5″ x 11″ double-D coil and hunting in Pro Zero mode.  The AT Pro continually chattered at all the objects it was detecting in close proximity to each other.  I can't wait to get back down there with my Garrett 5 x 8 in search coil.  I think that will really help to hone in on the good targets.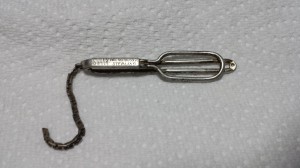 I was fortunate to find a personal item that I believe belonged to my grandfather.  It was a Sterling silver tie clip manufactured by Swank and includes the patent number 1865995.  The patent date puts this at around 1931.  I found it back behind the garage where the old outhouse used to be.  I can just picture my grandfather losing this after a trip to the outhouse, dressed up in his Sunday-best on the way to church.
While this isn't one of my most valuable metal detecting finds, it is definitely the one that I value the most.  Sometimes sentimental value is worth a lot more than monetary value!