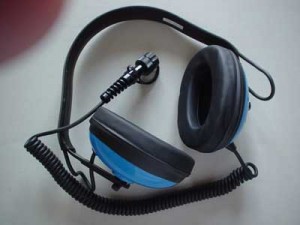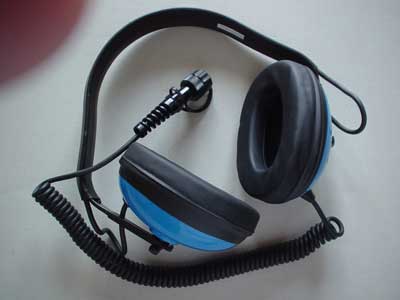 The best metal detecting headphones may not necessarily be the ones that came with your metal detector.  There are a number of aftermarket and custom headphones available that offer special features or are designed to suit specific needs.  A lot of times, headphones are a secondary consideration when purchasing a metal detector.  You don't often realize what you need until specific detecting scenarios present themselves.  Let's look at a few of these scenarios below.
When I purchased my Garrett AT Pro, it came with the Garrett MasterSound headphones (part number 2202400).  It is a pretty decent set of headphones that has a water tight connector and dual volume controls.  The leather headband and ear cushions are very comfortable for all day use.  But they are not waterproof and only suitable for land use.
If you plan on doing and water detecting in stream or lakes, you will need to have a good pair of waterproof metal detecting headphones.  If you are a Garrett user like me, then you have the option of using the Garrett Submersible Headphones (part number 2202100).  I wish these Garrett waterproof headphones came with the AT Pro, AT Gold, and other submersible detectors, since they are after all waterproof detectors.  The headphones lack volume control, but you can pick up a set for around $85.00 which isn't a lot to pay for the ability to get underwater with your detector.
A little higher end offering is the DetectorPro Gray Ghost Amphibian headphones.  They are the top of the line when it comes to waterproof headphones for the Garrett AT Pro, AT Gold, and Infinium line of metal detectors.  That means they carry a little higher price tag too, and you can usually find these selling in the $150.00 range.  They are fully submersible to 30 feet, and have a one knob volume control.  Designed for underwater use, they offer a snug fit that resists slipping when wet.  These headphones are solid, and DetectorPro backs up the quality with a 2 year warranty for the original purchaser.  Gray Ghost underwater headphones are also available for the Minelab CTX.
Metal detecting headphones with volume control are also often desired by seasoned metal detecting hobbyists.  If you are detecting in noisy areas, such as around a busy roadway, the faint tones can often be drowned out by the ambient noise.  Or if you are hunting in pro mode and your detector emits a soft tone for those really deep signals, having the ability to increase volume can help you to key in on those signals.  Conversely, when hunting in quiet areas you may not want to blow out your ear drums, so having the ability to reduce the volume is a nice feature.  This is a pretty common feature now, even with cheaper headphones that have in-line volume controls.  A nice set of headphones to check out that I recently discovered are the Killer B Wasp Optima Headphones.  These offer the ultimate in volume control with their dual 41 position volume controls.  They have high output 150 ohms speaker elements, are light weight and very comfortable.  If you haven't heard people talking about these headphones yet, you probably will soon.
If you metal detect in snake infested areas or areas known to have rattlesnakes, then you won't want to go detecting unless you have a set of Detectorpro Rattler headphones.  These headphones have just one ear cup, allowing your other ear to remain exposed so you hear rattlesnakes or other dangerous reptiles before it is too late!  They have an extra padded headband and have a volume control on the ear cup.  They are light weight and fold up for compact transporting.  Priced at around $85.00, these can be money well spent if you hate snakes as much as I do.
A big topic of discussion lately has been wireless metal detecting headphones.  The concept is great.  No cables getting in the way giving you freedom of mobility.  I know I had had my headphones ripped off my head unexpectedly as the cable has gotten caught on a branch.  There aren't a lot of good options available right now but I honestly expect to see metal detector manufacturers integrating bluetooth or other wireless technologies into their detectors in the future.  XP Metal Detectors seems to be leading the charge with this technology and has made it available in the XP Deus detector.  It is expensive though, but we can hope to see these prices coming down as other manufacturers start offering this technology.  There is also a third-party offering from Airheadzwireless.com, which may be a great solution but after looking at the price tag I'll move on for now.
Another wireless option that is really worth looking at is the TDK WR700 wireless headphones.  I mention these because I have read posts in forums where others have been using these with great success for metal detecting.  You get 30 – 40 hours of listening time on a set of AAA batteries.  They fold up for compact storage.  They also include the 2.4Ghz transmitter that will send the sound from your detector to the headphones.  This transmitter is compact and light weight.  It connects to a 3.5mm headphone port, so you may need an adapter to connect it to your detector.  They usually run around $145.00 but are highly rated and seem to be a go to model for wireless detecting.
One additional note about headphone adapters.  If you are a Garrett ATX, AT Gold, AT Pro, Infinium, or Sea Hunter user, then you may need a Garrett AT Pro headphone adapter to use any headphones that have a 1/4 in headphone jack.  This is part number 1626000 and they cost a little over $30.00.  You can see them by clicking here.